Quality & Inspection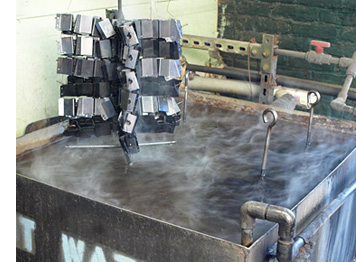 We harden parts in liquid salt baths, resulting in a minimum of distortion and a reduction in cracking compared to conventional heat treating methods. Finished parts are subjected to a thorough visual inspection and tested for hardness with our hardness testing equipment.
Our heat treating processes are electronically controlled and continually monitored with electronic timers and digital instruments, ensuring that proper times and temperatures are held. Furnace temperatures are also chart recorded for future reference.
To insure top quality, our inspection equipment is routinely calibrated and certified by an outside service.
Certificates verifying hardness are also available on request.