Experience and Equipment for Heat Treating Excellence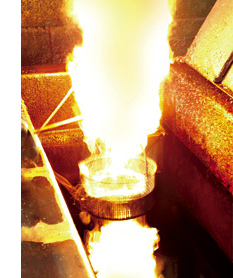 Anderson Specialty, Inc. has been heat treating ferrous materials since 1951. With so many years in the business, we have gained the expertise to use the methods and equipment that result in complete customer satisfaction.
We also pride ourselves on a high standard of customer service. Our flexible production capabilities accommodate a wide range of customer requirements, and we provide fast delivery whenever it is requested. As an added service, we welcome customers to seek our recommendations for the best heat treatment for each individual application.
Anderson Specialty hardens parts in Liquid Salt Baths, resulting in a minimum of distortion and a reduction in cracking compared to conventional heat treating methods. We treat a wide range of steels used in products found in many industries. These materials include, but are not limited to:
Alloy Steels such as 4140, 4340, 4130, 4150
Carbon Steels such as 1050, 1075, 1095
Tool Steels such as 0-1, 0-6, A-2, A-6, L-6, W-1